You probably plate with rhodium for one (or more) of three reasons: (1) to protect your metal against tarnish, (2) to give your metal a hard, bright-white finish, or (3) to create a hypoallergenic surface on your metal. Rhodium is a hard, bright-white, tarnish-resistant, and hypoallergenic metal from the platinum group of metals. Plating with rhodium is a terrific solution to all three of these desired goals for your jewelry pieces.
Until now, jewelers sometimes found working with rhodium plating solutions to be challenging because of the fairly precise settings needed to ensure a crisp, bright-white, professional result. But, have you heard? Legor® and MIDAS® have combined their expertise in metals and plating, respectively, to create a rhodium plating solution that makes the plating process far easier while delivering results that are brighter, whiter and more dependable.
First, the advanced technology of MIDAS® acid-based Ultrabright rhodium plating solution delivers a higher luminosity coordinate (a fancy way of measuring the bright-whiteness) than other formulations can, which means a noticeably brighter, crisper white for your jewelry than you can produce with other formulations.
In addition, Ultrabright rhodium plating solution contains anti-burn technology and this formulation—unlike other rhodium formulas—offers a forgiving range of heat and voltage settings. Ultrabright is not easily burned in the plating process, a mishap that leaves your plated piece looking cloudy or dull. With Ultrabright, you can plate: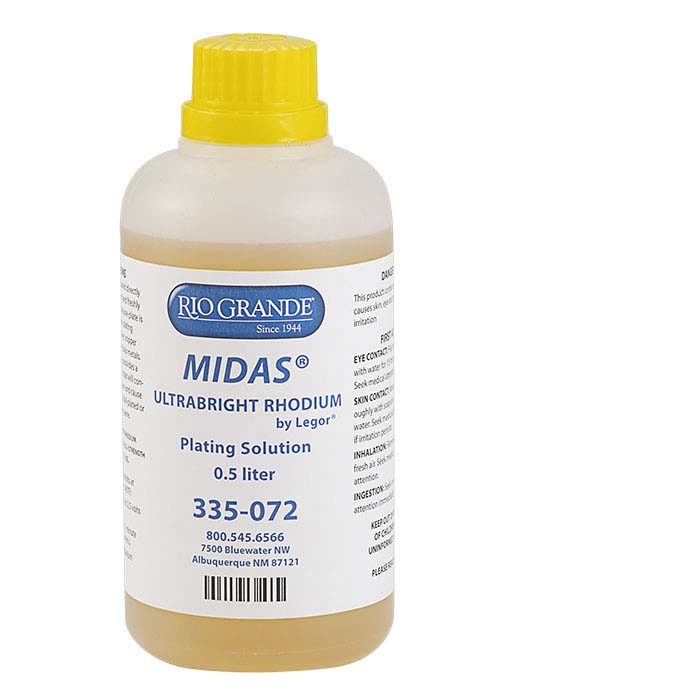 anywhere between room temperature—about 68°F/20°C—and 140°F/60°C
at anywhere from 2–6 volts
for anywhere from 15–120 seconds
…and the result will be the brilliant white you want for your jewelry pieces. The Ultrabright anti-burn formulation creates a protective barrier around the workpiece to offer the jeweler a great deal of process flexibility with more consistent results.
Finally, you can achieve a plating thickness up to 0.4 microns—twice that of other rhodium solutions—and you can do it without increasing the working concentration of the solution (2g/l).
Using a platinized titanium anode, plate MIDAS® Ultrabright rhodium directly onto platinum, gold or nickel. To plate over silver and copper alloys, start with a preliminary nickel plate and then plate with Ultrabright. To plate over tin, lead, brass and bronze alloys, start with a preliminary copper plate followed by a nickel plate and finish with Ultrabright.
When you finish, you may want to slip on your favorite summer sunglasses . . . the brilliance you're about to see can be pretty stunning.