Where Should I Put My Rolling Mill? How Do I Care for It?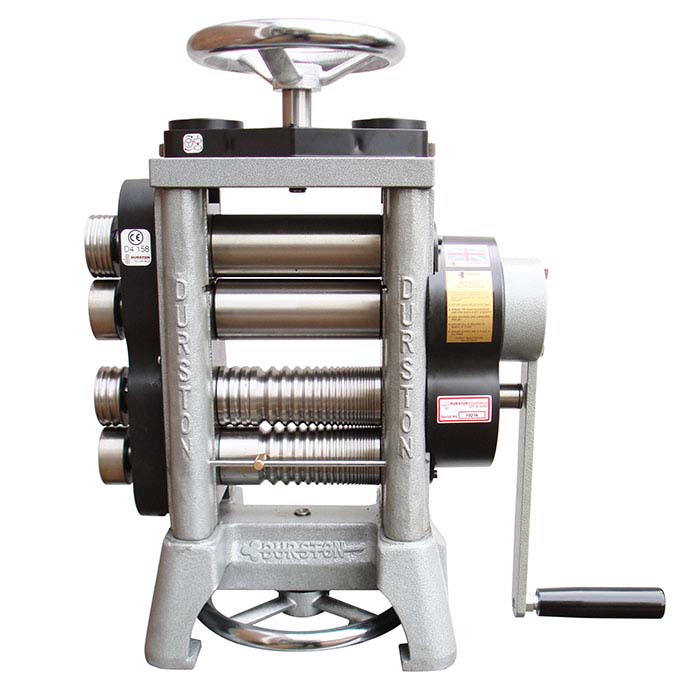 Rolling mills are extremely heavy; before unpacking your mill, plan how you'll lift it and where you're going to mount it. Make sure to mount your rolling mill to a sturdy table, countertop, or a rolling mill stand that has been secured to the floor. The stand or counter you choose must be capable of supporting the weight of the mill and you must be able to bolt or secure the stand firmly to the floor. Without attachment to the floor, one could not achieve the tremendous leverage necessary to operate the mill and there would be a risk of tipping it.
Rolling mills come encased in grease; this is a common protective measure for most steel tools during shipping. A white solvent and a lint-free cloth can be used to remove the grease from the rollers. Once the rollers are clean, rolling can begin. To keep them working effectively, the rollers will need to be lubricated or polished regularly. In the following video, master goldsmith and renowned teacher Ronda Coryell demonstrates her method for polishing her mill. She creatively uses a dowel rod, a rag, and Simichrome Polish® to shine and provide corrosion resistance to the rollers of her rolling mill.
Maintaining a rolling mill is fairly simple: oiling and protecting the rollers from corrosion by following the advice in Ronda's video or using a corrosion-resistant oil like 3-in-1® oil, or another rust preventative will help keep the mill rollers in excellent condition. The gears are self-lubricating and do not need to be serviced. Based on the model of your mill, additional maintenance may be required, your operator's manual will include all the details. Avoid putting dirty or wet metal through the rolling mill as this can cause damage to the rollers. Protecting the rollers is of the upmost importance—once the rollers become damaged, they can difficult to refinish and costly to replace.
Durston has put together a helpful guide to using and maintaining a Durston mill that you will find very helpful in learning to use your rolling mill.