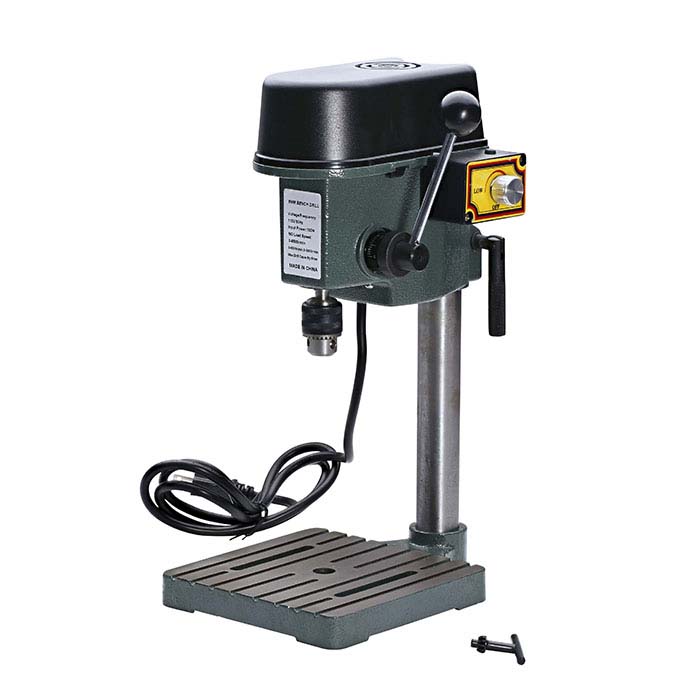 All the world's your jewelry-making oyster when you have a drill press in your studio. It can transform the materials you are able to incorporate into your work, allowing you to turn any stone, shell or piece of beach glass that catches your eye into a potential element in your next jewelry design.
And the best part? You don't need much equipment to get started. With a basic press and a few drills you have almost everything you need.
Our bestselling variable-speed mini drill press has a small footprint, offers excellent control, and can drill through just about anything, though larger and harder stones will take significantly longer.
Mark Nelson, events/education coordinator at Rio Grande, loves the drill because it's cost-effective and gets the job done!
You will want to use a diamond twist drill or a diamond core drill for stone, glass and shell. Twist drills will make it easy to start off but are more difficult to use toward the end of the job. Core drills are harder to start off with but make it easier to finish.
Switch to a steel twist drill for metal and other materials, such as plastics.
If you're drilling metal, be sure to use a lubricant, such as BurLife®. It will make the drilling easier and prolong the life of your bit.
Jenny Hoople, of Authentic Arts, uses river rocks, which give her work beautifully smooth and organic shapes. She made the natural slate cairn necklace shown above with water-weathered stones she found on a beach in the Finger Lakes region of New York state.
Jenny recommends starting out with softer sedimentary rocks, such as limestone and sandstone before trying to drill harder igneous or metamorphic rock, such as granite or quartz. And she has a trick for easily telling the difference.
"If a pebble you find on the beach isn't rounded like the other ones around it, that's a good clue that it's a harder igneous or metamorphic rock that would take a loooong long time to drill," she writes in a tutorial she put together for beginners who want get started making stone jewelry.
In addition to drilling simple holes through stones, you can easily add embellishments and other design elements to stones with the drill press.
Check out our Resource Center for more great content on drilling and using a drill press for jewelry making.