Stringing beads is easy right? It's not like making "real" jewelry.
Au contraire! Bead stringing can be as simple as making a macaroni and yarn necklace or as complex as stringing an intricate diamond bead necklace.
Beads are the oldest known form of jewelry. The oldest beads on record were discovered in the Blombos Cave in South Africa. They're estimated to be 75,000 years old! (No evidence of Beadalon or crimping pliers was found in the cave.)
Actually, stringing can be a very easy process if you have the right tools and supplies.
All you need to add is a little bit of imagination and design and voila! A beautiful piece of jewelry!
What cord do I need to use?
There are two basic categories of bead cord: Fiber cords and wire cords
Sometimes it seems that there are just as many choices in bead cords as there are in beads! It is easy to get overwhelmed as you try to figure out which cord will work best for their desired outcome. Here are a few descriptions that will help demystify bead cord.
Fiber Cords
These cords are made of natural or synthetic fibers. They are usually used with beads that have smooth holes.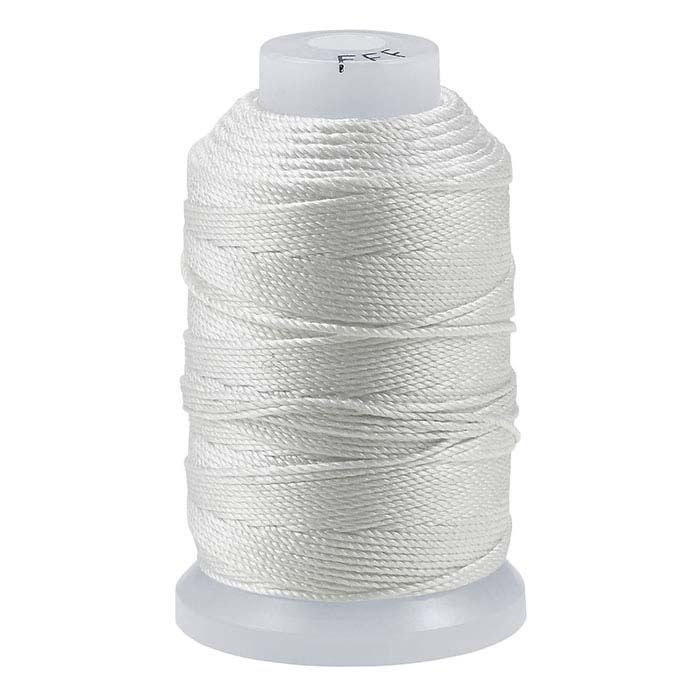 Silk cords: Oh, the richness of silk! It's soft, supple and delicate. And at the same time it's tough, durable and long lasting. Silk is traditionally used to string pearls, but other gemstones can also be strung on it. The silk is knotted between each bead. These knots protect the pearls from rubbing against each other, which can wear off the nacre (the pearly surface). Also, if the strand breaks, the knots prevent the entire strand from spilling all over the floor.
Synthetic fiber cord: These cords are super-duper strong! These are a great choice when you need to combine glass or gemstone beads with metal beads since they stand up to the wear and tear of metal. They come in itty-bitty diameters so you can use them with beads that have itty-bitty holes.
Silk substitute cord (Pearlsilk, Polyamid, etc.): These cords are a synthetic version of silk. They don't fray or stretch as easily as natural silk. Pearls or any other beads can be strung on silk substitutes.
Wire cord is made out of bundles of steel wire—think of a miniature version of what holds up the Golden Gate Bridge. Most stringing wires have a protective nylon coating. These types of cords are used to string heavy beads or beads that don't have completely smooth holes.
Beadalon 49: The primo brand of bead stringing wire. Because it's made of 49 individual strands of steel, it is incredibly strong and is super flexible and supple. It's also available in 6 different diameters so it works with just about any size of bead.
Beadalon 19: Because this has 19 strands of steel, it is very supple (but not as much as the 49-strand). It also comes in 6 sizes, the smallest being .010"—this is perfect when stringing diamond beads that have very tiny holes.
Beadalon 7: Also known as tigertail. This is a strong, inexpensive way to get started stringing. Because it has the lowest strand count, it is rather stiff and has the tendency to kink if it's not handled properly.
There are sooo many bead-stringing findings to choose from…which ones will work the best?
They all work. You just have to keep the vision of your final beaded masterpiece in mind and consider the best type/size of cord for your project. Here are some often-used bead stringing findings:
For fiber cord: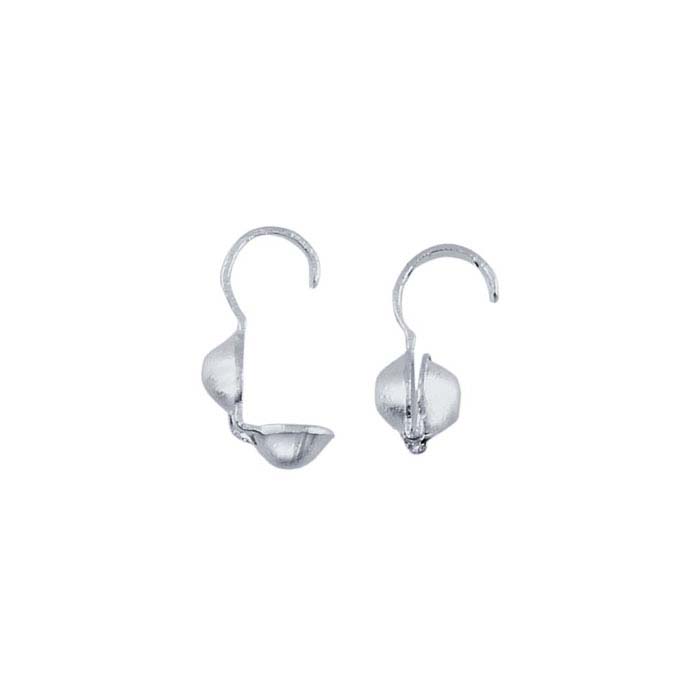 Bead tips: Bead tips are used to secure the knotted end of your beaded piece. There is a hole at the bottom of the tip where the cord is strung through. The cup supports and hides the knot giving the strand a finished look. They come in two styles, single-cup tips and double-cup tips. The double cups are also referred to as clam shells. Also, bead tips come in several sizes, the smaller tips are best when used with small diameter beads, large tips are paired with larger beads.
French wire: Oui! Oui! French wire (not to be confused with the earring findings) is also known as bullion. It is traditionally used with silk cord. It is a super fine wire that is coiled super tight (think of a miniature slinky). The cord is strung up through the wire to reinforce bead cord where it passes through clasps. The French wire protects cord from fraying where it makes contact with the clasp.
For wire cord:
Crimp beads: Crimps are little tube-or bead-shaped findings that are used to finish the ends of all types of wire cords. They are not recommended for fiber cord since they can cut through the cord. The inside diameter (I.D.) of the crimp is determined by the size of cord that will be used.
Clasps: Clasps are a necessity for just about any bead strand. Not only are they functional, they can also be used as a design element. There isn't one "best" clasp to use. Choosing the right clasp can drastically change the look of your design. This is where you can use your creative freedom and choose the clasp that will bring out the personality of your beaded masterpiece.
What tools do I need to get started?