One of my first childhood memories centers around a rock tumbler my parents gave me as a gift and features the persistent rolling and slurring sound coming from the basement. Most folks tend to associate rotary tumblers with rock-tumbling processes, but there are several ways the rotary tumbler can benefit jewelers with mass-finishing processes. Rotary tumblers can accomplish abrasive cut-down, burnishing and polishing. Burnishing is the most common way to use a rotary tumbler and involves using stainless steel shot or porcelain media, burnishing compound, and water to create a shiny burnished surface on your metal parts and pieces.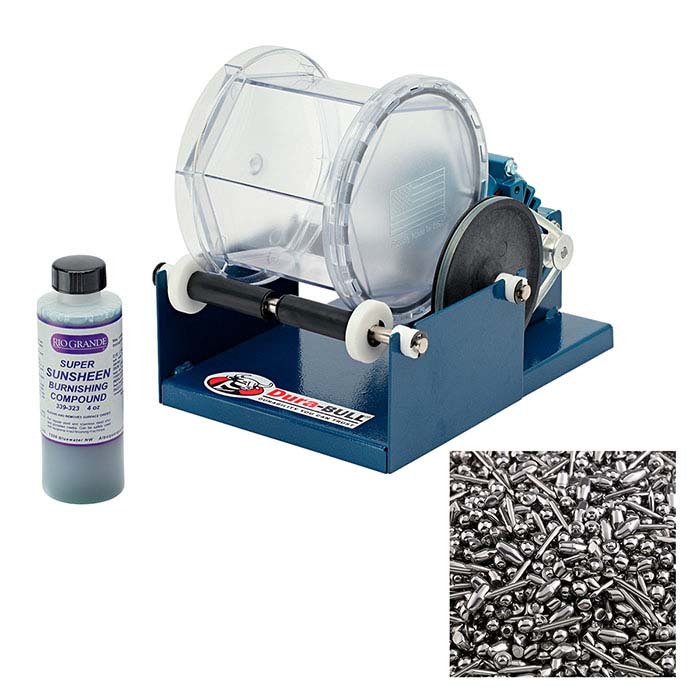 The turning of the tumbler rolls the steel shot through the solution in the barrel, rubbing it against your pieces to smooth and shine their surfaces. The compound, not too alkali or too acidic, decreases the friction between the materials in the barrel, allowing the right amount of contact to take place. A solution that's too soapy or too foamy, or water alone, will not give you the most effective final finish. It is important to use a compound that is made for the burnishing process.
Other media, such as abrasive media, can be used in a rotary tumbler; plastic, aluminum oxide, or silicon carbide, partnered with a deburring compound, can be tumbled to smooth your pieces or to debur them as the first step in a mass-finishing process. Polishing media such as walnut shell can be loaded along with polishing compounds to produce a higher shine than can be achieved with burnishing.
Though maybe not the quickest or the most efficient way of cleaning a piece, rotary tumblers are a good, economical way to mass-process jewelry and eliminate the need to work parts and pieces with your hands. Rotary tumblers are excellent for burnishing your jewelry in hard-to-reach areas, burnishing your metal clay creations, removing tarnish from most jewelry, as well as performing abrasive cut-down and polishing processes—not to mention rock tumbling. Rotary tumblers can be a little noisy, too, but they are simple to use and create some remarkable jewelry finishes with far less effort on your part.
Above are four sterling silver rings straight from the casting process. The first ring is unfinished. Using a single-barrel rotary tumbler, the second ring was tumbled with fine-cut plastic media alone. The third ring was tumbled with fine-cut plastic media, followed by stainless steel shot and Super Sunsheen burnishing compound. And the fourth ring was tumbled with fine-cut plastic media, stainless steel shot, and green Sunsheen.
From those first memories of creating smooth, polished rock to the processes I use now to produce bright, shining finishes on the jewelry pieces I make, the rotary tumbler holds a special—irreplaceable—spot in my creative processes. Mass finishing is a great way to save time while producing beautiful finishes—be sure to take a look at Create an Irresistibly Attractive Finish with a Magnetic Finisher, then give a rotary tumbler a try and see what it can do for your jewelry.